All you need to know about the new Nigerian Army Boss, Major General Ibrahim Attahiru.
After several months of criticism and calls for the change of the Country's service chiefs, the service Chiefs has resigned and retired from their post and were replaced by the President Buhari.
His excellency President Mohammadu Buhari today announced the resignation of the four service Chiefs. He also announced the new service Chiefs as follows;
Major-General Leo Irabor, Chief of Defense Staff.
Major-General Ibrahim Attahiru, Chief of Army Staff.
Rear Admiral A.Z Gambo, Chief of Naval Staff.
Air-Vice Marshal I.O Amao Chief of Air Staff.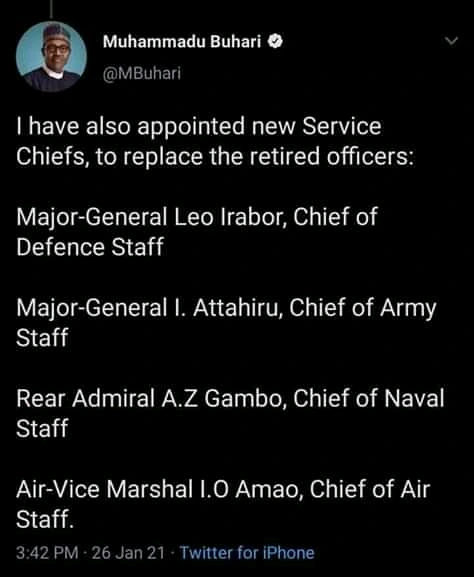 Major General Ibrahim Attahiru who is the new Chief of Army Staff will replace General Buratai. The new chief of Army staff is from Kano state. He attended Army day secondary school Bukavu barracks kano, Nigeria. He also went on to attend the prestigious Nigerian Defense Academy, Zaris. Before his promotion, he was the Army General incharge of the 82 Division of the Nigerian Army Enugu state. He is a very experienced Soldier who has seen it all in the force. We pray that he will exceed the achievements of the past Chief of Army Staffs.
See the Pictures of the new chief of staff.