Discovered:Hindu Oath Documents In Senator T. A. Orji's House In Abuja-(Pictures)
The document Okezie Ikpeazu signed for T.A Orji and his son before they made him Governor of Abia state the document was discovered when EFCC went for the arrest of the former governor.
T A Orji is not new to oath taking, his predecessor equally took him to a shrine in 2007 as shown in the video, but he has stepped up the game by taking his successor to a hindu shrine for oath.
today Abia state is by far the worst state in Nigeria,while Aba economic pillar of the state is a disgusting dilapidated sewage pit toilet, Umuahia has remained a village.
If these facts are true, which I believe they are, then I believe Victory for state is not far off!
This Exposure Is a Great victory and I believe there are Better days ahead for the people of Abia state.
Meanwhile, this set of people will not agree to take an oath allegiance with some our God's, they will claiming Christians or Muslims, at the end of the day they are more diabolic than the babalawo.
T.A. Orji, is a professional oath-taker. He takes and administers oaths at will.Orji Kalu took him to Okija I think, and he took Okezie to an Indian temple. Okezie himself will take his successor elsewhere for the same, and in all, the State of Abia remains the worse for it.
Why would Abia State and its citizens be mentioned to reap any consequences from these oaths they nothing about in case of default?
Very demonic and evil people.Little wonder that State is in such a poor form.
Orji Uzo Kalu took TA Orji to Okija Shrine, TA took Ikpeazu to India Shrine. You can see that after Ogbonnya Onu, who named Abia God's own state, all the successors brought different kinds of demons to power. No wonder Enyimba City wears look of negligence and desolation. May God save Abia state from demon.
Below is the oath the current Abia state Governor swore to T.A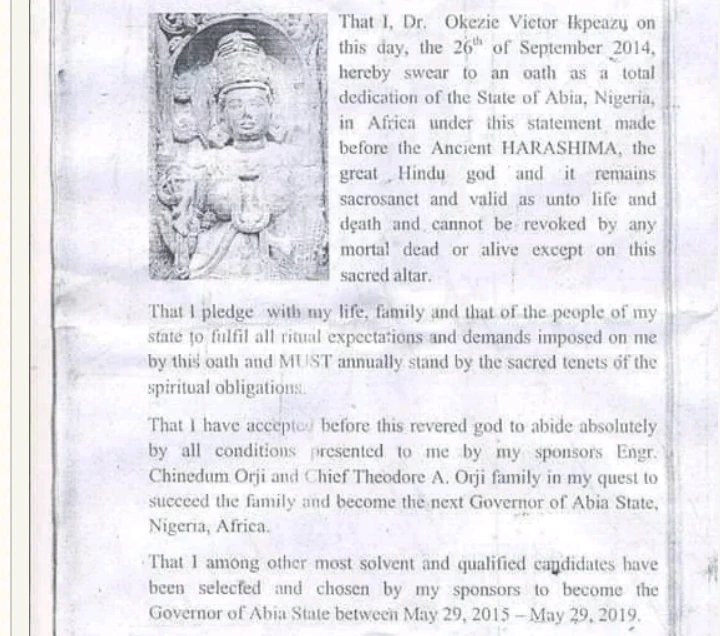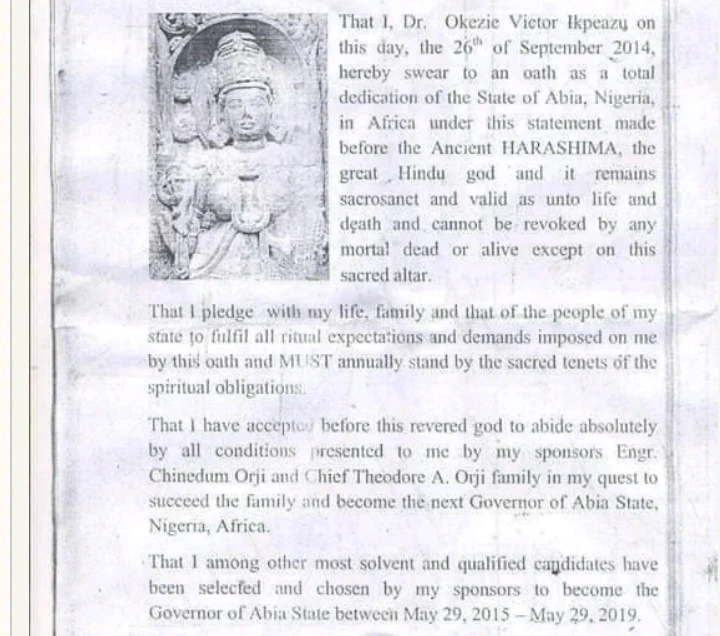 May God save Nigerian from evil leaders