Edo2020:Mass Defection Looms In Obaseki's Camp As his SSA Tenders Resignation without reason
Obaseki's Camp Thrown In Disarray as massive resignation looms
All is not well within the political camp of the Obaseki Shaibu Movement as more members have tendered their resignation.
Coming less than 24 hrs to Oshiomhole's victory at the appeal court the Honorable Senior Special Adviser to Governor Obaseki on Anti-Human Trafficking, Comrade Solomon Okoduwa and also a strong political confidant of the Governor has resigned his appointment.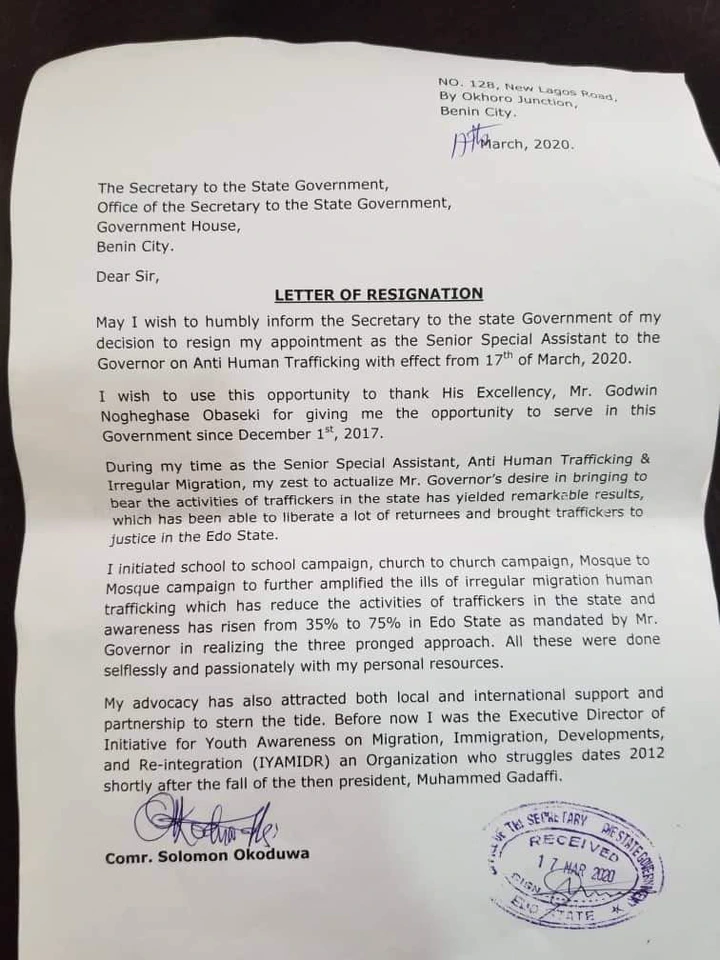 Comrade Solomon Okoduwa, however, did not state his reasons for his resignation.
He thanked the Governor for availing him the opportunity to serve the state.
In his resignation letter, he listed his achievements while serving under Obaseki.
Of recent Obaseki's camp has been decimated with daily decampment.
It is expected that this is just a prelude to the mass resignation set to take place.
It is gathered that the battle of supremacy has no fence now as it is evidently clear it is a fight to finish.
You must come out open now to declare your allegiance.
This a developing story, more details to follow.
 Source EdoFocus