Dortmund 2-1 PSG: 2-goal from Erling Haaland inspired BVB overshadows Neymar as they gain advantage
Erling Haaland inspired Borussia Dortmund to victory over Paris Saint-Germain with a brace in the first leg of their Champions League tie.
CLOSE! Neymar's free-kick inches wide
PSG get a free-kick in a central position as Guerreiro brings down Neymar. Neymar and Di Maria stand over it. Neymar soon steps up and fires a curling effort just wide of the right-hand post. Not far off.
CLOSE! Sancho's shot wide out
Can hands PSG their first corner of the game as he nips in to stop Mbappe receiving the ball. Haaland heads it away at the near post and Dortmund are off on the break! Sancho has plenty of options but skids a low shot wide from outside the box. There were better choices there.
CHANCE! Haaland's shot hits the net
Yet again PSG are sloppy in possession and Dortmund break! This time Sancho hangs the ball up for Haaland at the far post. The Norwegian has a free header but it's uncharacteristically poor and goes out of play. Dortmund need to do better with these chances.
Double chances for PSG as Mbappe & Neymar denied
PSG get their first shot on target! Mbappe bursts into the box from Meunier's pass and blasts straight at Burki. Burki covers his near post well. Shortly after, Mbappe has an almost identical chance. Neymar tries to find the winger again but now Mbappe's offside.
GOAL! Dortmund 1-0 PSG (Haaland)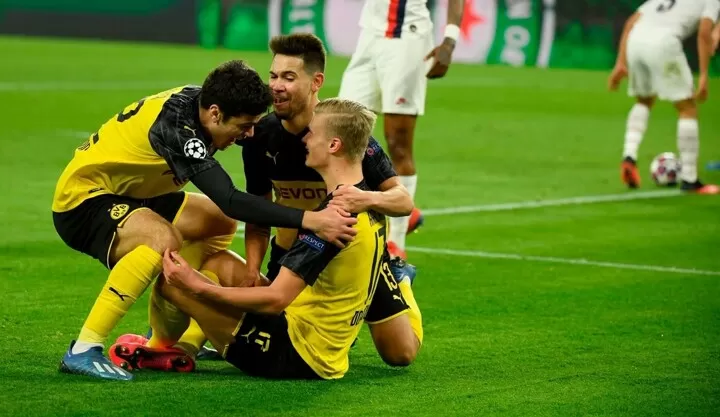 GOAL! 1-0 DORTMUND! Dortmund have a lead in this first leg! Hakimi finds Guerreiro in the box and his first-time shot is blocked. The ball pops up nicely for Haaland who stabs it home from close range!
GOAL! Dortmund 1-1 PSG (Neymar)
GOAL! 1-1 PSG! PSG score with their first big chance of the game. Mbappe skips over Zagadou's challenge in the box and squares it to Neymar who can't miss from a few yards out.
GOAL! Dortmund 2-1 PSG (Haaland)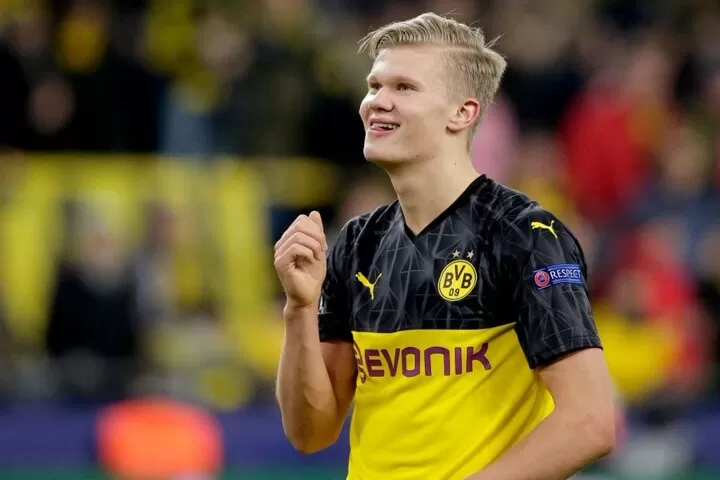 GOAL! 2-1 DORTMUND! Erland is a freak of nature. The Norwegian receives the ball from Reyna just outside the box and smashes it left-footed into the top left corner. Navas wasn't getting anywhere near it.
MISS! Neymar's shot wide out
PSG almost equalise again! Dortmund unwisely let Mbappe's tame header bounce in the box. Neymar rushes onto it and fires an effort towards goal which glances off the left-hand post. Burki shouts at his team to wake up.