Identical twin brothers take identical twin sisters as wives in Lagos.Groomsmen also identical twins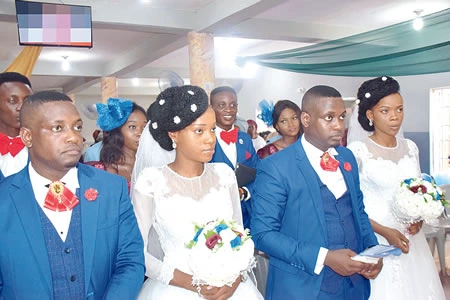 THE idea of two sets of identical twins getting married to one another on the same day and at the same ceremony is as rare as it sounds. It is like a fairy tale. Therefore, for the Ayansola twins, Tayelolu Joshua and Kehinde Caleb, it was a fantasy of many years becoming a reality in Lagos on Saturday, 11 January, 2020, when they were joined in holy matrimony to their , another set of identical twins, Taiwo Eunice and Kehinde Bernice Elejofi.
Kehinde got married to Kehinde. Tayelolu also got married to Tayelolu.
The venue of the hardly-seen, two-in-one marriage ceremony, The Redeemed Christian Church of God, Tribe of Judah, was packed.
When Saturday Tribune's correspondent was approaching the venue, she overheard the conversation of a female photographer and another woman. "The wedding holding in this church must be an important one. Look at the huge crowd!" the woman said. The photographer momentarily satisfied the curiosity of the woman: "Twin brothers are getting married to twin sisters. And that is not all, the grooms, just like their brides, look identical. What's more? The groomsmen are a set of identical twins as well." The epoch-making event was actually a celebration of twins. The groomsmen were Elijah and Enoch Olatunji. They are also a set of twins who can't be told apart.
The grooms, from Modakeke, Osun State, were so close they did everything together right from when they were very little. They attended the same primary and secondary schools, studied the same course – Physical Health Education – for their first degree at the Obafemi Awolowo University, Ile-Ife, where they both graduated in 2014 with First Class. The two of them also got Commonwealth scholarship for their Master's degrees in the United Kingdom. They are currently pursuing the same career in gospel music.
But fate intervened in their affairs when it was time for their national youth service and, for the first time ever, they got separated. Kehinde (which is the Yoruba name given to the one controversially presumed to be the older of twin brothers or sisters) was posted to Katsina State, while Tayelolu (or Taiwo) was posted to Anambra State.
In an interview with Saturday Tribune, the brothers said the relationships with their women started a few days after their last birthday. Kehinde Bernice Elejofi had sent a Facebook message to Kehinde Caleb Ayansola to wish him a happy birthday, a development which got them talking. After some time, the brothers decided to visit the ladies in their school, University of Lagos, Akoka. As the saying goes, the rest is now history.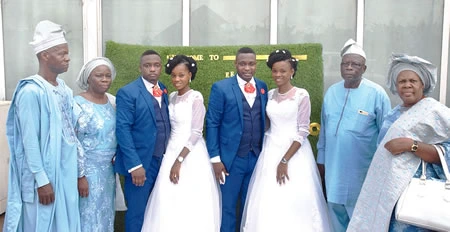 According to the Ayansola brothers, they had always wanted to marry twin sisters and they cannot be more excited with the grace to realise this dream.
"We have lots of common interests. We share virtually everything, including our finances. We do not want this closeness to come to an end as we have heard of cases where women become an issue. Therefore, we felt that getting married to twin sisters who also have the kind of relationship we have would further cement our relationship," Kehinde said.
However, the search was not easy for the Ayansolas. They met several twin sisters and were in earlier relationships with two which hit the rocks. According to Taiwo, the last relationships they had were emotionally stressful as they struggled with them right from the start.
"We made our intention clear to the twin sisters from the beginning. We told them we wanted very serious relationships. But as much as we tried to make the relationships work, the ladies did not cooperate with us. In August 2018, we ended the relationships," Kehinde said.
But this setback did not discourage these two brothers from keeping their hope of marrying another set of twins alive. Taiwo said they were convinced in their resolve as they prayed and fasted for 120 days over their search for their life partners. "After the prayers and fasting, we continued our search, although we were not desperate," Taiwo said.
Kehinde Caleb initiated the Facebook chat with Kehinde Bernice and told his brother Taiwo about it. Tayelolu Joshua also decided to engage in a chat with Taiwo Eunice, after which they visited the ladies in school in Lagos – all the way from Ibadan. From the series of chats that followed the first meeting, it was evident that the twin brothers were not disappointed by what they saw. And when they eventually asked the big, four-word question, the future seemed bright enough for them. Although the proposal was done separately, the response from the ladies was the same – "Yes!"
While not closing their eyes to the challenges marriage comes with, the twin brothers are optimistic that they will overcome the hurdles. They said they intend to spend more time with their spouses. "My wife and I stand as an entity. Kehinde stands with his wife. Now I make decisions with my wife," Taiwo said.
The brides, Taiwo Eunice and Kehinde Bernice Elejofi, told Saturday Tribune that unlike their men, they had no previous relationships. The two, students of Biology Education at the University of Lagos, revealed that they turned down several earlier suitors because they felt no connections with them. But when the Ayansola twins paid them a visit in school, they felt like kindred spirits and three days later, things began to happen for them seamlessly.
According to Kehinde Bernice, when the brothers opened their hearts to them, they informed their parents and their response was positive. "I was confident about the relationship. We informed our parents and we thank God they gave their blessing and now here we are," she said with a broad smile.
However, when the relationship turned into marriage prospect, they were a bit cautious, being students, but they were convinced. According to Taye Eunice, when Kehinde told her the Ayansolas would be paying them a visit, she readily agreed to it, and when Tayelolu Joshua called days later to say that he liked her and would want them to be in a relationship, she was surprised. "I told him I would think about it," she said.
The Elejofi twins believe that God has been involved in their marital affairs from the beginning. They are audaciously hoping to give birth to sets of twin boys.
Elijah Olatunji, one of the twin groomsmen, had met Tayelolu Ayansola in Anambra State where they both served as members of the National Youth Service Corps (NYSC). Incidentally, Tayelolu Ayansola handed over to Elijah as an executive of a religious group of corpers in that state. He recalled that when he knew about Tayelolu's plan, marriage-wise, he aligned with it. "It may be unrealistic to some people, but me, no. What they were thinking about at that time was what God really wanted. As they grew, they actually came to understand the leading of the Spirit," he said.
The brides' parents were filled with joy. Pastor Elijofi, the father, said he and their mother knew, right from their birth, that this (their daughters' marriage to twin brothers) might happen. "While they were growing up, we were told that the girls would be unique and different from others. All this we kept to ourselves and as they grew older, we began to see some of these things. Also, Pastor (Mrs) Elijofi, said their girls had done them proud as they got married. We trained them in the way of the Lord and I am happy they did not depart from it," she said.
"They should live in their marriages according to biblical doctrines that they are one. There should be no secrets and they should be open to one another. And when challenges come, they should look unto God," she advised.
For Daniel Adigun, a friend of the Ayansolas and producer of their first music, the marriages are a match made in heaven. He recalled the brides' appearance at the Ayansolas' music concert in 2019. "When I saw them using the same dance steps as their men, I told people that these were our wives. They probably learnt the steps from YouTube," he said.
Adigun advised the newlyweds to make patience their watchword as they start a new phase of life. "With patience, they will overcome all problems," he said.