Man City 5-1 Atalanta: Aguero & Sterling inspired Man City to a comeback win
Game is over and the final score is Man City 5–1 Atalanta. Here is the match report.
5 – 1    
Aguero (34′)            

Aguero (38′ PEN)            

Sterling (58′)            

Sterling (64′)            

Sterling (69′)            

Malinovskiy (28′ PEN)            
Raheem Sterling scored a second-half hat-trick as Manchester City moved closer to securing their progression from Champions League Group C with an emphatic 5-1 win over Atalanta.
Ruslan Malinovskiy's penalty capped a fine start for Atalanta, but the Serie A side were little match for City once Pep Guardiola's men – led by the impressive Sterling – clicked into gear.
Sergio Aguero was the benefactor of Sterling's work in the first half, tucking in from a brilliant cross before converting a penalty the England forward won.
Its a Penalty Goal! Man City 0-1 Atalanta (Malinovskiy)
GOAL! Atalanta lead, Malinovskiy powers the penalty into the bottom-left corner, Ederson going the other way.
GOAL! Man City 1-1 Atalanta (Aguero)

GOAL! City are level! Sterling cuts infield from the left, clips a ball in between the line of defence and the goalkeeper, and Aguero latches onto it to sidefoot it between Gollini's legs.
A Penalty Goal! Man City 2-1 Atalanta double from (Aguero)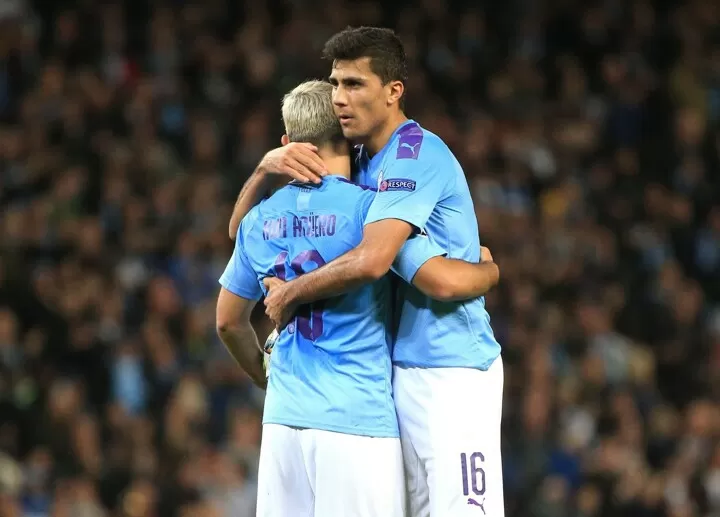 GOAL! City lead, Aguero at the double! He goes hard to the bottom left as Malinovskiy did, and the result is the same. Gollini goes the right way but can't get near it.
Stones is back to replace injured Rodri
Stones – who is sporting an absolute shiner of a black eye – is coming on for Rodri, who's been forced off with what looks like a hamstring injury. City defenders continue to drop like flies.

GOAL! Man City 3-1 Atalanta (Sterling)
City win possession in midfield, De Bruyne carries it forward down the right and lays it square for Foden. He can't quite work the angle for the shot but feeds it onto Sterling, who smashes it in under the crossbar. Sterling's tenth of the season.
GOAL! Man City 4-1 Atalanta (Sterling)  

Sterling gets in behind after a nice bit of combination play between Mendy, Gundogan and Foden, and he never looks like not scoring. He drifts inside a defender and plants it inside the near post as Gollini looks to cover the other side.
GOAL! Man City 5-1 Atalanta (Sterling)    

Aguero gets in behind from Foden's pass and draws a good save from Gollini after a beautiful bit of control, but the ball comes back out to Mahrez on the right. He puts it into a similar area where Sterling assisted Aguero for his first, and Sterling makes no mistake with the finish.
Second Yellow Card! Foden sent off
Foden is sent off, second yellow! The first one looked harsh but this one was a bit silly as he pulls De Roon back. Suspect we'll be hearing about this from Guardiola after the game. Foden, to his credit, makes no complaint and hurries straight off the pitch