Images Of An Abandoned old man who later gave up ,when Authority(police & hospital) frustrated his help
A Twitter user has shared the heartbreaking story of an old man that was abandoned behind Degema LGA NYSC Secretariat and left for dead.
The youth corper, in a bid to help the old man had to meet appropriate authorities to get clearance but he was met with so much bureaucracy that the old man passed on before he could be helped.
Read his story below.
Yo peeps! This man was dropped behind Degema LGA  NYSC Secretariat, getting close to 2 weeks now. I was not expecting to see him there today because some men came to check him out last week and I overheard that they might probably take the man to Port Harcourt for treatment…
We only come here on Tuesdays for CDS so we didn't know if he was still there or not. Unfortunately, nothing has been done to help the dying man. This man cannot walk on his own, some of the toes on his right foot are already cut off and he's smelling seriously. His condition 
is so disheartening and it seems everybody is just waiting for the man to die there. I'm not sure he has eaten anything for days now. So I bought malt and biscuits so that he can eat something first but as it is, it seems he doesn't even have the strength to sit up. This…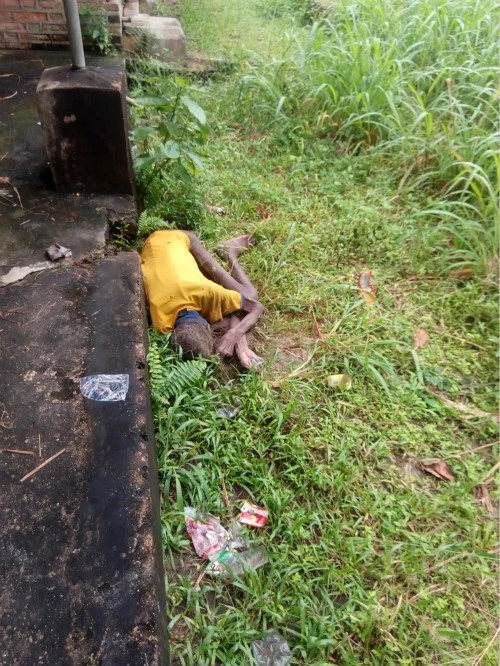 man needs an immediate medical attention lest he dies in no distant time. Kindly retweet and tag the appropriate authorities in charge of taking care of cases like this in Rivers state. 
Update:
Based on different advice from different people yesterday, I went to the police station earlier this morning to seek an approval to take the man to a hospital for treatment as different persons are already on standby to foot the hospital bills. The police SO said…
…the easiest way to get an approval is through the local government or if I could get a relative of the man. So he directed me to ask for the mortuary attendant at the zonal hospital, that he's from the same village as the man that needed help.  On my way to the hospital i…
…branched at the place where the ailing man was to check his condition. But on getting there, I observed he's no longer moving so I had my doubts if he was still alive. Nonetheless, I went to the hospital to fetch the man I was directed to ask for but I was told he has…
…traveled by the time I got there. So I went back to the police station to give the SO a feedback and asked if an officer can go with me to ascertain if the man was still alive so that I'll know if to proceed with the plans on ground. He directed me to meet the DCO outside…
When I got to where the DCO was with some other officers, they said I shouldn't bother myself anymore as it has been confirmed that the man is dead. They said the Protocol officer and a CDC personnel has gone there to observe the situation and arrangement will be made to…
…evacuate the dead body from there by the local government people.
Images Of An Abandoned old man who later gave up ,when Authority(police & hospital) frustrated his help