BBNIJA:A physical altercation with Mercy,a fellow housemate Sew TACHA disqualified yesterday
Tacha, a housemate in the ongoing Big Brother Naija season four edition, has been disqualified from the reality TV show.
She was sent packing from the house on Friday evening after she had engaged in a physical altercation with Mercy, a fellow housemate.
Trouble started when Seyi, head of the house, called the other housemates to come out to the lounge so they can read Biggie's scroll.
With ten days to go Tacha has been disqualified from the Big Brother House for physical violence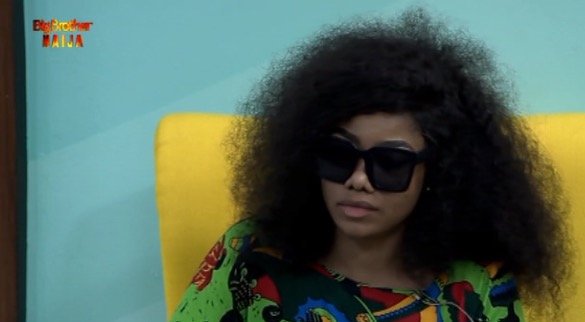 Mercy, however, came out late — a situation which got Tacha furious and prompted her usage of provocative words on her fellow housemate who didn't take it lightly.
"You are a moron, remain there and don't come out. clout chaser, old woman, you keep using your body to get everything you want. You have been using Ike to get what you want. You can't stand eviction that is why you need Ike to help you," Tacha said.
Mercy, who had earlier registered her disgust with her fellow housemate, stated that she needs to take care of her body because she "stinks".
"You are very stupid, you Instagram beggar. Go and treat your body odour before you talk to me, you stink. At least, I have a boyfriend (Ike) to get me what I want. What have your boyfriend done for you?," Mercy asked.
The confrontation, however, turned physical as Tacha drew Mercy's hair and she, in anger, picked up an electric iron to defend herself before Omashola intervened.
The 23-year-old Instagram sensation, who has unarguably been the most controversial housemate in this year's season of the show, was disqualified for physical violence while Mercy got two strikes from Big Brother "for not stepping away from a volatile situation
BBNIJA:A physical altercation with Mercy,a fellow housemate Sew TACHA disqualified yesterday